United States Army Air Force.

Lieutenant. William E. McDaniel...............Captain.
Lieutenant. Eugene A. Kilcheski..............Copilot.
Lieutenant. Hilary E. Routt.........................Navigator.
Lieutenant. Jack W. Owen..........................Navigator-Bombardier.
Sergeant. Raymond L. Tucker...................Fight Engineer.
Sergeant. Harold J. Lemons.......................Radio operator.

Royal Air Force. 548 Squadron.

Flight Lieutenant. Thomas Cook.
Flying Officer. Roy Cannon.



Damaged Aviator wings found at crash site possibly those of Lt. W. E. McDaniel.
| | |
| --- | --- |
| | |
| Lieutenant William Emmett McDaniel. United States Army Air Force. | Lieutenant William ( Bill ) McDaniel in his combat uniform. |


A young Lt. William and Lorene E. McDaniel.
In much happier days before the coming uncertainty of the looming war years.

Photos supplied by Ms. Sandra ( Sandy ) Burns of Waxahachie, Texas and
her sister D'Anna Hill from Washington State, nieces of Lieutenant W. E. McDaniel.

A young Sandy with her only uncle, Bill.
The Beautiful Betsy remains today a monument to all who served in during World War 11. And to
all service men and women who gave their lives in this part of the Pacific. Some so far from home, making Australia the wholesome, safe country that it is today.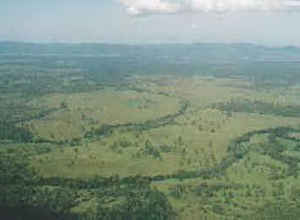 View of the coastal plain toward the Northeast
less than five miles from crash site and fifteen
minutes flying time to Gladstone.
So Near and Yet So Far.
As a young boy, born in 1946 and having five Uncles who served in the various theaters of WW.11. One, Eric Haughey, who survived years as a POW in the infamous Changi Camp after the fall of Singapore. I grew up with many stories of the war and being involved in the Vietnam conflict, I guess helped shape my interest in the history of such sites as the Beautiful Betsy's. Although the information on this page may not be 100% accurate it is all I have been able to piece together from published reports.

Personal items found at the site.
The US. Investigators found some personal items at the site of those on board which included: Dog tags, bracelets on which names were engraved, rings, belt buckles, military buttons, coins and an unopened but scorched parachute.
The news of Betsy's discovery was welcomed by the families of those on board after 50 years of not knowing what had become of their loved ones. Mrs. Frances Owen of Colorado. The Lemons family of North Carolina. The Cannon Family in London UK.

Lieutenant William E. McDaniel flew eighteen missions in six different aircraft during his war time service with the 530th Squadron, logging up some three hundred plus flying hours. The planes and missions are as follows.
7 missions in Mary M. B - 24J. 44 - 40370.
5 missions in Silver Lady. B - 24J. 44 - 40371.
3 Missions in Frisco Frannie. B - 24J. 42 - 73451.
1 mission in Prop Wash. B - 24J. 42 - 73475.
1 Mission in Sandra Kay. B - 24D. 42 - 72790.
1 Mission in Dauntless Dottie. B - 24D. 42 - 40495.
Information supplied by a Mr Ted Williams a 380th Bomb Group member.
Forwarded by Ms Sandra Burns.

Although Lt. William E. McDaniel did not serve with the 528th. Squadron he had volunteered to fly this 'fat cat run' as they were called before returning to active service. This flight was also to be Betsy's last job before being totally decommissioned.
Lt. Harold Lemons had volunteered to replace another man who had been on duty all the previous day. The two British Officers had hitched a ride on Betsy en route to Brisbane for the wedding of Roy Cannon a young Spitfire pilot. Although Roy never made it to his wedding his last letter home did. An edited reproduction has been added as a tribute to him and the others on board.

Group 561
RAAF.
Darwin February 14th. 45.
Dear Edith and Freddy
Haven't heard from you for some time.How are you getting along? The last news I had was that you both were in Nottingham. There seems to be a contrast in our weather at Darwin, to that in England. I am steaming - you are freezing. Now that I have got used to living in perpetual summer, it's going to be grim having to face the cold again. I am getting married on the 3rd in Brisbane. My best man is a new pilot in the Squadron who comes from Streatham - an awfully nice fellow.
Edna tells me she has a "lark" who has proposed to her. My what a thing to be married to a man who sings!!! Daphne and I are going to the Blue Mountains for our honeymoon and apparently it is a really nice part of Australia. We are flying from Brisbane to Sydney to save time as I only have three weeks, then have to come back to the tropics for another nine months.
Are you opening your shop again? I'm going into business when I get out of the RAF. If things are grim in England I shall come back out here, I know some very influential business people who'd fix me up. One chap has about ten subsidiary companies. Lately I have been suffering from Singapore ear - fungus which thrives in the water. I've lost a stone during the wet season too - besides a small amount of hair! Edie, do you think you could write to Daphne sometime? She wants to get the "gen" on me I think.
Best wishes.
Roy.



Flying Officer Roy Cannon RAF.

Lest We Forget.

A World War Two photo of the Spitfire.


The Memorial Service.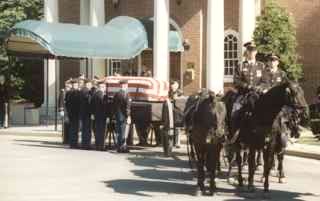 The memorial service held at Fort Myers.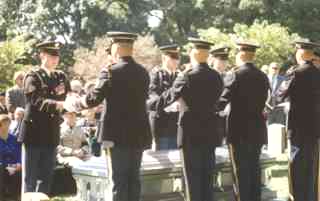 Flag folding ceremony at the grave side.
Arlington National Cemetery, Virginia.

Mrs. Margie Proctor, the sister of Lt. McDaniel and mother of Ms Sandra Burns, center, receiving the furled flag at the grave side. Mrs. Proctor was considered official next of kin at the time. Mrs. Lorene McDaniel had remarried, then, Mrs. Lorene McDaniel Sands seated far left looking on, she, rightly so also recieved a flag at the Arlington ceremony.
Mr. Dennis Cannon seated right foreground accompanied by a British RAF Officer left, where present at the Arlington ceremony representing the two British Pilots. Mr. Dennis Cannon, Roy Cannons brother passed away himself on the 6th. December 2002.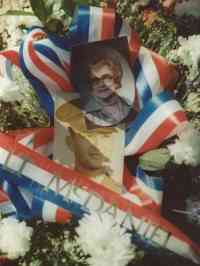 A wreath of memories placed at the grave.

After fifty years the Captain and crew of 'The Beautiful Betsy' come home.

| | |
| --- | --- |
| | A young photographic student from Rockhamton, Queensland. Mr Ian Hitchcock was so moved by what he found on a visit to Beautiful Betsy's final resting place that he put this photographic tribute together for the men who lost their lives all those years ago on that isloated hill top. Click on the image to view his work. |




Bob Haughey.

A Beach 'N Reef Motel.

Boyne Island~Queensland ~ Australia.

Acknowledgements.




Ms. Sandra (Sandy) Burns.

From Waxahachie, Texas.




Mr. Derrick Cannon.

From Clapham, United Kingdom.




Mr. Lloyd Curtis.

Boyne Area Historian.




The Gladstone Observer.